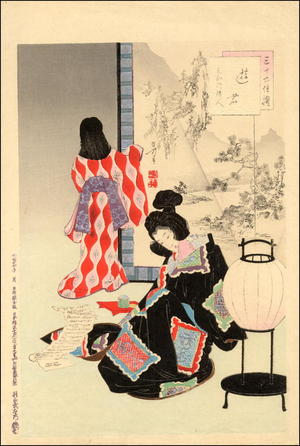 Artist: Mizuno Toshikata
Title: A seated bijin reading by lamplight
Date: 1893
Details: More information...
Source: Japanese Art Open Database
Browse all 17,130 prints...
Description: Saturday, 3 May 2008 Thirty-six Immortal Beauties Artist: Toshikata Format: Oban tate-e de luxe: 14.5" x 9.75" approx Subject: From Toshikata's elegant series of bijin - Thirty-six Immortal Beauties. A seated bijin reading by lamplight. Publisher: Akiyama Buemon Date: 1893/4 Condition: Unusually large untrimmed sheet, never backed. Minor creases. Generally very good state. Colour: Fine Impression: Superb 1st edition with a black lacquer pattern on the kimono (not visible in scanned image), gauffrage, burnishing and silver pigments. Immaculate Meiji printing at its very best.