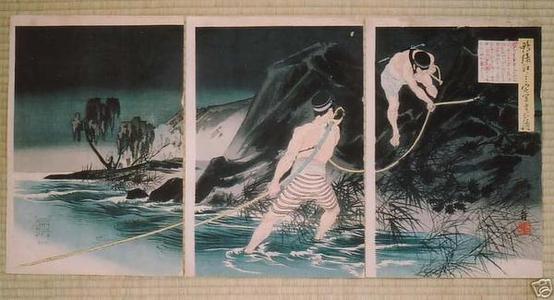 Artist: Migita Toshihide
Title: Japanese soldiers on a reconnaissance mission under cover of darkness
Date: Not set
Details: More information...
Source: Japanese Art Open Database
Browse all 17,130 prints...
Description:
Monday, 31 October 2005 Outstanding Sino-Japanese War (1894-95) Japanese woodblock print triptych (3 sheets) showing two Japanese soldiers on a reconnaissance mission under cover of darkness. Each sheet measures 10 1/4 X 14 3/4 inches and is uncut, unbacked and in very nice condition with fine colors. The prints are signed by the artist TOSHIHIDE and dated Meiji 28 (1895). About the artist: MIGITA TOSHIHIDE (1863-1925) studied ukiyo-e under the master YOSHITOSHI, then Western-style painting under Kunisawa Shikuro.