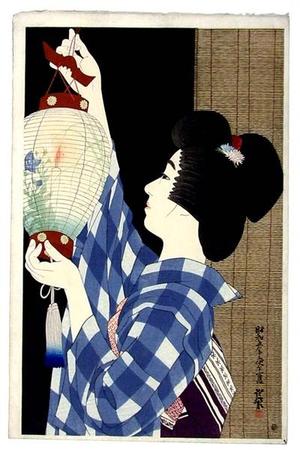 Artist: Ito Shinsui
Title: Gifu Chochin- Gifu Paper Lantern
Date: 1930
Details: More information...
Source: Japanese Art Open Database
Browse all 17,130 prints...
Description:
Artist: ITO SHINSUI Title: Gifu Chochin (Gifu style paper lantan) Print Type: Limited Edition Japanese Woodblock Print Series Title: First Series of Modern Beauties Edition #: 217/250 (on reverse) Date: 1930 Publisher: Watanabe Reference #: #43 "Complet Works",Shueisha Size: 16 3/4 x 11 inches (paper) Condition: Fine impression, color and state. Dated and signed lower right. Circular publisher's seal. Notes: Additional references: "The Female Image", plate # 58 and "The New Wave", plate # 251. Original traiangular paper seal of publisher on the reverse.