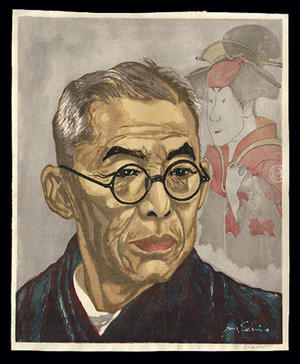 Artist: Sekino Junichiro
Title: Kichiemon Nakamura
Date: Not set
Details: More information...
Source: Japanese Art Open Database
Browse all 17,130 prints...
Description: Offered for sale is a wonderful and important Japanese woodblock print by sosaku hanga school master Jun'ichiro Sekino (1914-1988), titled Kichiemon Nakamura, numbered 1/50. Next to the edition notation in the bottom margin is IIme etat, which is French for second printing. According to Jun-ichiro Sekino: The Prints, 1994 (Sekino, Katsuko, ed.), where this design is illustrated at plate no. 75, this image was first printed in 1947. The 1947 edition is limited to 30, and, as was typical of the artist during the early 1950s, when an edition sold out, he would print it again in a larger edition size, in this case an edition of 50, and so designate the second edition by with the term IIme etat. Since very few of the images from the first edition are still extant, the IIme etat impressions of this design are highly desirable and collectible. The print is in very good condition with excellent color. There is tape residue on the outer edge of the top reverse margin and a tear in the upper left margin, near the corner. The image measures approximately 21 7/8 by 17 7/8 inches, plus margins.