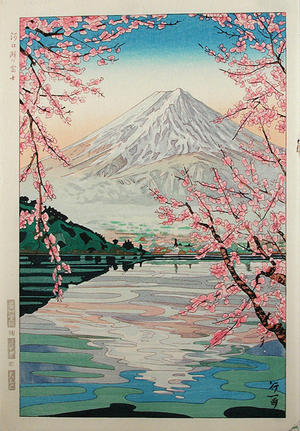 Artist: Okada Koichi
Title: Mt. Fuji
Date: 1950
Details: More information...
Source: Japanese Art Open Database
Browse all 17,130 prints...
Description:
Okada, Koichi- Mt Fuji- 1.jpg is: Kouichi OKADA (1907- ??) "Mt. Fuji from Lake Kawaguchi" 1950 Print size is 16.0" x 10.75" Early Edition Condition is very good. No tears, folds or creases. This print is perfect in every way. Strong image bleedthrough to verso Master OKADA, a contemporary of HASUI, was not well known outside Japan, but his skill and technique are superb. Unlike HASUI, GOYO, etc., whose works were extensively exported, thus gaining them recognition in the West, OKADA showed and sold extensively in Japan, and is considered a true Shin-Hanga master. This early strike evidences the publisher's watermark (GEI) in the lower right corner and the all-important double carver (Okura)/printer (Takenaka) seals as well as the artist seal. The colours and contrast in this lovely print are incredible; ever-so-delicate, but yet so strikingly bold. The serenity of snow covered Mt. Fuji in the background reflects in the brilliant waters of lovely lake Kawaguchi. The print is framed with brilliant pink cherry blossoms.