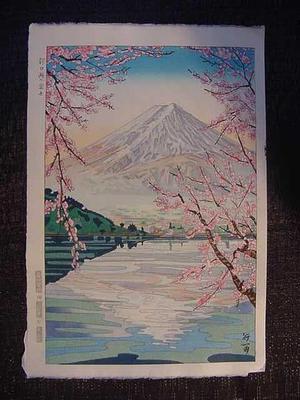 Artist: Okada Koichi
Title: Mt. Fuji
Date: 1950
Details: More information...
Source: Japanese Art Open Database
Browse all 17,130 prints...
Description:
"Mt. Fuji", Woodblock Print by Okada Koichi A Beautiful Original Japanese Woodblock Print by Okada Koichi, 15 7/8" h., born 1907, ca. late 1950s to early 1960s, 10 5/8" w., oban tante-e orientation, a later edition print but still nonetheless very impressive, one in the series titled 12 Views of Japan, depicting Mt. Fuji as viewed from across a lake through branches of blooming cherry blossoms, on rag torn mulberry paper, in excellent condition with strong color, registration, and bleed through.