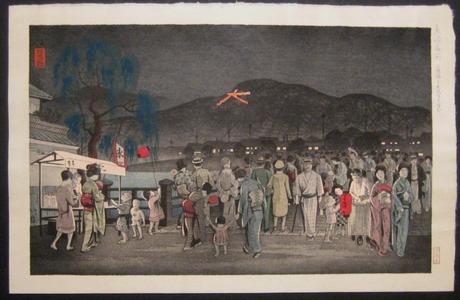 Artist: Nomura Yoshimitsu
Title: View of Daimonji from Nijo Castle — 二条城より大文字を望む
Date: 1930
Details: More information...
Source: Japanese Art Open Database
Browse all 17,130 prints...
Description:
Wednesday, 22 April 2009 Title: 京洛名所: 二條橋より大文字を望む Kyoraku Meisho: Nijokyo Yo Ri Daimonji O Bo Mu (pronunciation in Japanese) Famous Places of Kyoto [series title]: Viewing of Daimonji from Nijo Bridge (some characters above and below viewable via Unicode encoding on your browser) Date (original issuing): 1930 Date (this particular edition): rare 1st Limited edition same as above bearing the limiting verso seal [200/200 in Japanese] as shown. Edition Size: 200 Medium: Original Japanese Woodblock on strong and high quality mulberry (rice) paper Color: Multiple printed colors Dimension: image (21.7 x 34.8 cm or 8 1/2 x 13 3/4 inch), paper (25.1 x 39 cm or 9 7/8 x 15 1/4 inch) Credits: Yoshimitsu Nomura (野村芳光original artist), Shotaro Sato (佐藤章太郎 publisher) Special Attributes: Artist block signed [shining black on black as 芳光] and with his personal seal in red at top left corner, titled in blue [as translated above] in left margin. Publisher's seal [佐藤工] in red is located at bottom left margin. The first limit edition seal in red on verso [as 貮百番限?版 第貮百號 that can be translated simply as 200/200. ]. Condition: This beautiful Nomura Woodblock print is in excellent plus condition [i.e., clear and pristine image, strong and bright paper, vivid colors, original full margins with deckle edges at top and right, no bend, no tear, and slight but even age toning]. It was printed on high quality mulberry (rice) paper. The print is nearly flawless with some very minor abrasive tape residue spots around the edge of margins on backside as shown by the detailed photo. Ample photos [front, back, and details] in high resolution are provided for your convenience of identification and judging its excellent quality independently.