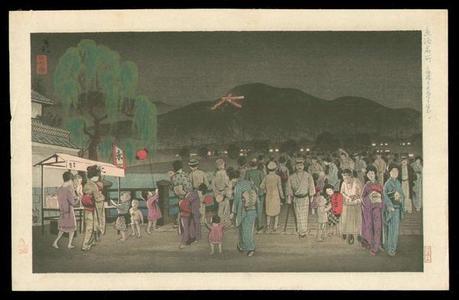 Artist: Nomura Yoshimitsu
Title: View of Daimonji from Nijo Castle — 二条城より大文字を望む
Date: 1930
Details: More information...
Source: Japanese Art Open Database
Browse all 17,130 prints...
Description:
Monday, 16 July 2007 View of the Big Character from the Nijyubashi Bridge in Kyoto from the series Kyoraku Meisho by Nomura Yoshimitsu. Original Japanese woodblock print circa 1930. Fine color, condition and impression. Strong texture and ink bleedthrough on fine washi. Yoshimitsu character in black lacquer above artist's red seal in upper left of image. Sato publisher's seal in right margin. Print measures 9.8 x 15.3 inches.