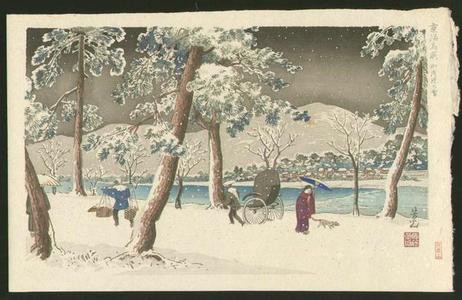 Artist: Nomura Yoshimitsu
Title: Snow on the Bank of Kamogawa — 加茂堤の雪
Date: 1930
Details: More information...
Source: Japanese Art Open Database
Browse all 17,130 prints...
Description:
Monday, 10 December 2007 Snow on the Banks of the Kamo River in Kyoto from the series Kyoraku Meisho by Nomura Yoshimitsu. Original Japanese woodblock print circa 1930. Very good condition. One spot in center of print. Fine color and impression. Strong texture and ink bleedthrough on fine washi. Yoshimitsu character above artist's red seal in lower right of image. Sato publisher's seal in right margin. Print measures 9.8 x 15.3 inches.