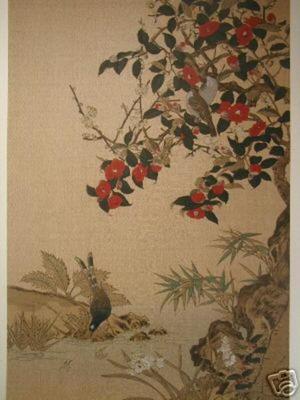 Artist: Nihon Shosui-sha
Title: No 9-1- Wang Jeshui- Crimson Camellias — 紅椿
Date: Not set
Details: More information...
Source: Japanese Art Open Database
Browse all 17,130 prints...
Description:
Tuesday, 14 March 2006 JAPANESE WOODBLOCK PRINT "Crimson Camellias" by Wang Je-shui Here comes very famous woodblock prints reproduction of Japanese masterpieces. Serious collectors like you might know this series. Please do not miss this chance. During Taisho era(1912-1926) a publisher called "Nihon Shosui-sha" carried out a project of making reproduction of Japanese masterpieces for their selected members like Professors and Embassies. Those woodblock prints were put in a gorgeous binder with a title "Nihon Mokuhangasui"(Japanese Selected Woodblock Prints). Please check the following picture.(This binder is for your reference not for sale.) Each prints are lightly pasted(removable) on a thick white washi(Japanese traditional paper) and covered by very thin half transparent washi on which explanations are printed both in Japanese and English. Its English explanation says: "…. His pictures were classical in style, but quite new in spirit….. The picture in this edition, being one of the pair, has epigraphs of Soami and Anyu on it. Just look! There is a charming contrast between white and red of the flowers of the plum and camelia…." Date: Taisho(1912-1926) Size: Oban approx. 11.81 inch x 7.67 inch (30 cm x 19.5 cm) Condition: Perfect! Colors, techniques excellent. Please check the following pictures. No Backing.