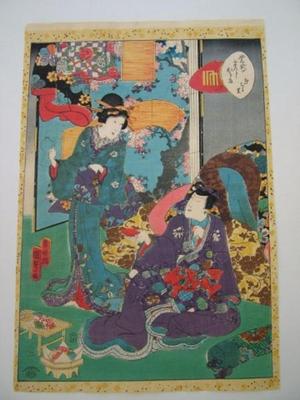 Artist: Utagawa Kunisada
Title: Hanachirusato - Village of Falling Blossoms — 花ちる里
Date: 1857
Details: More information...
Source: Japanese Art Open Database
Browse all 17,130 prints...
Description:
Monday, 29 August 2005 "This print is actually by Kunisada II 1823-1880. The series is Murasaki shikibu Genji karuta (Picture cards of Murasaki Shikibu's Genji) and was published by Tsutaya Kichizo in 1857. It was the first series I collected. Dealer prices on these prints range from $200 to $300 or a little more. This print is for chapter 11, Hanachirusato (Village of Falling Blossoms). The white clamshell has the title of the series at the top, the chapter below, The red clamshell has the number 11 and the yellow "Genjimon" symbol for the chapter. IMAGE SIZE: 9" X 13" Paper size 9.5" X 14 1/4"