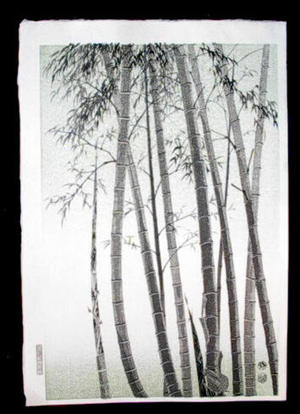 Artist: Kotozuka Eiichi
Title: Bamboo
Date: 1960
Details: More information...
Source: Japanese Art Open Database
Browse all 17,130 prints...
Description:
Bamboo Eiichi Kotozuka A traditional image by the artist Eiichi Kotozuka. Eiichi Kotozuka's work is predominately landscapes and wildlife. His work reflects the centuries old tradition of beautiful nature subjects designed with an eye to the Zen simplicity of color and linework. These bamboo images are considered his finest works and typify this tradition. This subject, one of a pair of bamboo subjects by the artist, depicts the tall, thick bamboo stalks after a full summer's growth. The simple color palette of gray and soft green is stunning. Kotozuka's beautiful prints are treasures of 20th century Japanese art. These images of bamboo (the present one and another offered on today's auctions) are among the most sought after of his works. It is the simplicity of line and choice of subject that makes them so classically Japanese. Sealed- in black with artist's seal Image size- 10 1/2" x 15 3/4" (large oban tate-e) Condition- Excellent, no toning, tears, not mounted, full margin.