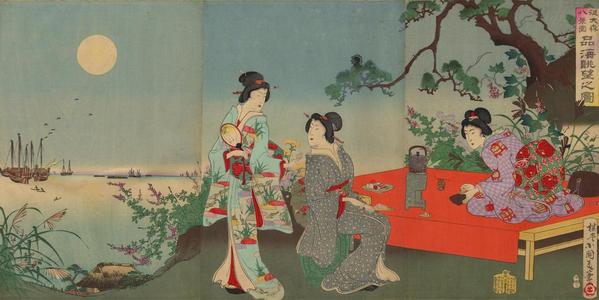 Artist: Kokunimasa Utagawa
Title: Full-Moon View of Hinkai Sea — 品海眺望之圖
Date: 1893
Details: More information...
Source: Japanese Art Open Database
Browse all 17,130 prints...
Description:
Full-Moon View of Hinkai Sea by Yoshu Chikanobu Artist: Yoshu Chikanobu Sheet Size: Approx. 70 x 35cm (full triptych size) Approx. 115 x 41cm (scroll) Print Title: Full-Moon View of Hinkai Sea (品海眺望之圖) Condition: Very good impression and good condition. Sheets are necessarily joined to make the scroll. Minor marks. No creases, folds, tears or foxing. All sheets unbacked. See large images below. Series Title: Ohmori Eight-View Park (大森 八景園) Item Code: Chikanobu-02 Date: 2nd September, 1893 Publisher: Morimoto Detail Images: Large image:Full triptych; View of Scroll; Comments: This is a genuine Meiji-era triptych mounted to a traditional Japanese scroll. I think the scroll probably dates to the early Showa period. Black Chikanobu artist signature and red seal at lower right. Print title at upper right.