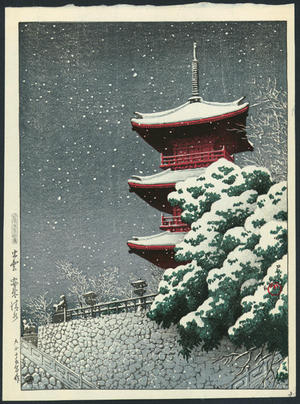 Artist: Kawase Hasui
Title: Yasugi Kiyomizu Temple, Izumo
Date: 1926
Details: More information...
Source: Japanese Art Open Database
Browse all 17,130 prints...
Description: An early edition woodblock print by Kawase Hasui titled "Yasuki Kiyomizu Temple"! This is a beautiful Japanese woodblock print in fine original condition. It was kept in its original folder since purchased in the 1920's, and was never framed or displayed. It bears the early series seal in the upper left margin. It is the last print from Hasui's "Selection of Series of Japan", a rare series of prints made from 1922 to 1926. This print dates from 1926. The image size is aiban, about 9 x 13 inches.