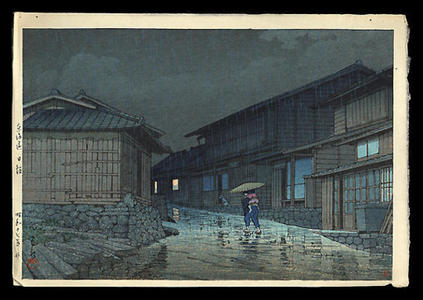 Artist: Kawase Hasui
Title: Nissaka in Rain, Nissaka on Tokaido
Date: 1942
Details: More information...
Source: Japanese Art Open Database
Browse all 17,130 prints...
Description: Offered for sale is a wonderful Japanese woodblock print by Kawase Hasui (1883-1957), titled Nissaka in Rain, 1942. This print is illustrated at pl. 146 of Kawase Hasui Mokuhangashu (Kawase Hasui Catalogue of Woodblock Prints), Narazaki, Muneshige, ed., (Tokyo: Kodansha & Mainichi Shinbun, 1979). This is a post- war printing of this design, as it bears a red round Watanabe publisher's seal in the bottom right corner. However, the paper is consistent with that used in the late 1940s/early 1950s and there were also some first edition, late 1940s designs acquired in the same collection (and to be offered shortly on our website), so this is likely a very early post-war printing. This print is has very good color and condition, although there is are a few pinholes in the top margin, and one in the right margin and a crimp in the bottom left margin corner. What appears to be a small void in the bottom margin, near the right edge, may be the result of a paper flaw. The image measures approximately 9 5/8 by 14 1/4 inches, plus full margins.