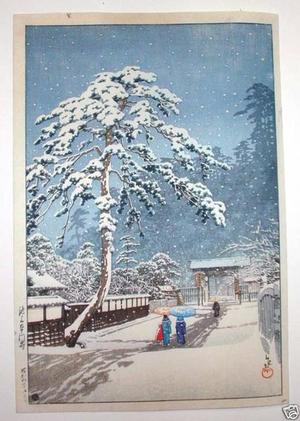 Artist: Kawase Hasui
Title: Ikegami Honmonji (Honmonji Temple in Snow)
Date: 1931
Details: More information...
Source: Japanese Art Open Database
Browse all 17,130 prints...
Description:
Saturday, 10 January 2009 HASUI WOODBLOCK OF HONMONJI TEMPLE 1931............ This is a 9.5" x 14.5" Japanese woodblock print by the very important painter and printmaker Kawase Hasui, 1883 - 1957. The print is titled 'Ikegami Honmonji Temple 1931', with the Watanabe seal ( 6mm ) to the bottom left and Hasui signature seal to the right. Fine condition with no foxing or stains. Unframed…………..