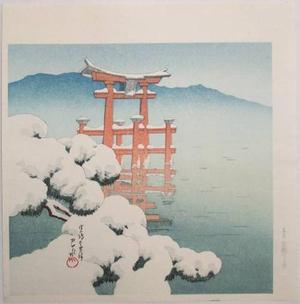 Artist: Kawase Hasui
Title: Lingering Snow at Miyajima
Date: 1930
Details: More information...
Source: Japanese Art Open Database
Browse all 17,130 prints...
Description:
Kawase- After Snow at Miyajima.jpg is: Japanese Woodblock by Hasui 'After Snow at Miyajima' (1930's) Beautiful snow scene by Hasui Kawase (1887-1957) titled "After Snow at Miyajima" (in Japanese, "Yuki no Miyajima") and originally published in the early 1930's by Kato Publisher as one of 12 designs commissioned by The Haibara Fan Shop. This is a 1988 re-printing commissioned by Hasui's daughter and published by Tokyo Takahashi Kobo as a Limited Second Edition of 200 prints printed off of the original blocks. Circa 1988. Narazaki #KA-06. To learn more about these "fan prints" originally published by Kato Publisher and subsequently re-issued by Tokyo Takahashi Kobo, follow this link to read an article about "Kato Publisher's 'Fan Prints" by Hasui." Very rarely seen. The workmanship in both carving and printing is simply superb?very nice gradation of colors ("bokashi") virtually throughout print with various shadings of blues, greens and soft pinks. Print is in excellent condition?no tears, no stains, no fading--no flaws noted. Great image!! Image measures 9 ? x 9 ? inches.