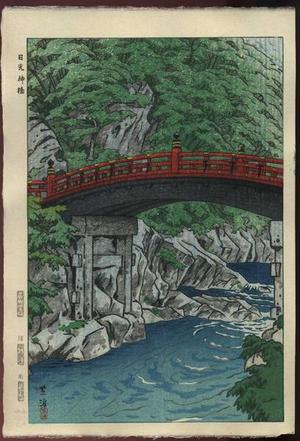 Artist: Kasamatsu Shiro
Title: Sacred Bridge, Nikko — Nikko Shinkyo Bridge
Date: 1948
Details: More information...
Source: Japanese Art Open Database
Browse all 17,130 prints...
Description:
Kasamatsu Shiro - Sacred Bridge at Nikko.jpg is: Nikko Shinbashi (Sacred Bridge at Nikko) by Shiro Kasamatsu. Genuine woodblock print. Fine condition. Oban size measures 16.1 x 10.8 inches. Left margin has title, Unsodo publisher's seal, Shinmi printer's seal, and Nagashima carver's seal. Shiro characters and red seal in lower left of image. Print has never been framed and retains original color. Nice ink bleed through on soft washi. Watermark in lower left corner.