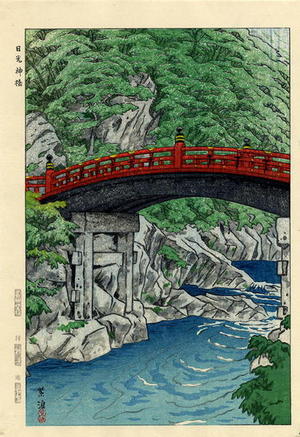 Artist: Kasamatsu Shiro
Title: Sacred Bridge, Nikko — Nikko Shinkyo Bridge
Date: 1948
Details: More information...
Source: Japanese Art Open Database
Browse all 17,130 prints...
Description:
Kasamatsu Shiro - Summer Scene at Divine Bridge, Nikko- 1.jpg is: The Bridge Artist: Shiro Kasamatsu Format: Oban tate-e: 15" x 11" Subject: In a rocky ravine a red wooden drum-bridge spanning a fast flowing river. Publisher: Unsodo Date: c. 1950 Condition: Fine colors and condition. Impression: Fine impression.