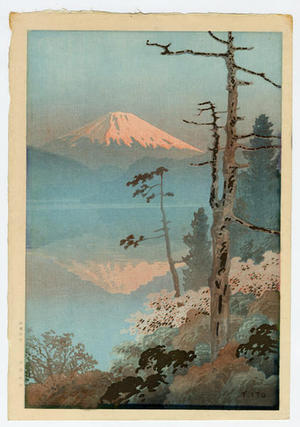 Artist: Ito Yuhan
Title: Fuji from Taganoura
Date: Not set
Details: More information...
Source: Japanese Art Open Database
Browse all 17,130 prints...
Description:
This is an genuine original Japanese woodblock print by great shin-hanga artist Yuhan Ito. Little reliable information is available about this artist, not even the year of his birth and death. Yuhan Ito made some beautiful landscape prints in Shin Hanga style in the 1930s. The prints were published by Nishinomiya Yosaku. This print titled "Mount Fuji from Tagonoura". Early edition published in 30th. Mt. Fuji in faint red twilight is seen from Tagonoura which is not the lake but the Suruga Bay. Yuhan's prints do not have black keyblock outlines in order to simulate the soft water color looks. No date. Very rare.The print is not trimmed, has full margins. Signed by artist in the image Y.Ito in roman style (see the closeup). Oban size 15 3/4" x 11". Faded, some mattburn line. Slight tape residues on upper corners of the margins.