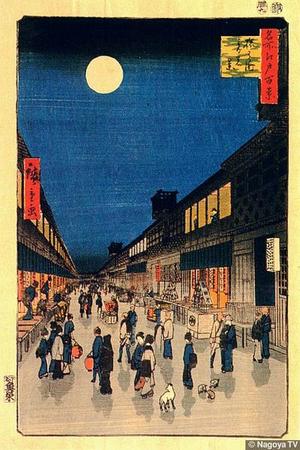 Artist: Utagawa Hiroshige
Title: Unknown title
Date: Not set
Details: More information...
Source: Japanese Art Open Database
Browse all 17,130 prints...
Description: Night Scene at Saruwakacho, from the series "One Hundred Famous Views of Edo", by Utagawa Hiroshige (1797-1858) Along the right side of the street, the buildings with towers above their roofs are theaters. The buildings along the left are restaurants and geisha houses. Saruwakacho is today part of the district known as Asakusa. This entertainment area was convenient to the Yoshiwara Pleasures Quarters and to the Asakusa Kannon. This print shows its row of famous theaters of the day, and its lively evening atmosphere. The crisp image of the full moon is also particularly striking.