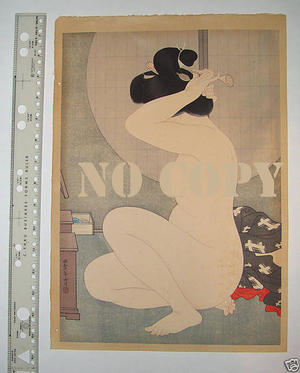 Artist: Hakuho Hirano
Title: After the Bath
Date: 1932
Details: More information...
Source: Japanese Art Open Database
Browse all 17,130 prints...
Description:
Thursday, 23 October 2008 ARTIST: Hirano Hakuho PRINT TITLE: Arranging Hair PRINT SIZE: This overall print measures about 15-3/8 inches by 10-3/4 inches. The image area measures about 14-3/8 inches by 10- 1/16inches. PRINT HISTORY: On May 6, 2005, this print was found and purchased from a store that sold used books that was in the process of closing and is no longer in business. I found this print under a stack of papers along with other prints in the store. The previous owner of the print informed me that this print was part of a collection that her and her husband had acquired years ago.