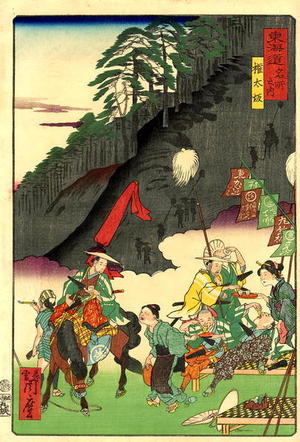 Artist: Kawanabe Gyosui
Title: The Mountainside
Date: 1863
Details: More information...
Source: Japanese Art Open Database
Browse all 17,130 prints...
Description:
Famous Places on the Tokaido: The Mountainside Artist: Gyosai Format: Oban tate-e: 13.75" x 9.25" Subject: At a mountainside tea-house a processional horseman pauses to converse with a waitress. Behind them other members of the procession relaxing on low tables with Sake and food. Through the mist the silhouettes of the remainder of the procession can be seen making their way down the mountain. Date: c. 1863 Condition: Fine colors and condition. Very minor marks and flaws. Impression: Fine impression with strong woodgrain visible in the background.