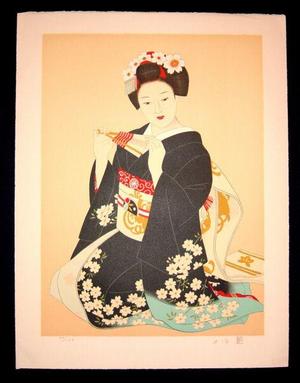 Artist: Goyo Otake
Title: Bijin 2
Date: Not set
Details: More information...
Source: Japanese Art Open Database
Browse all 17,130 prints...
Description:
Monday, 7 February 2005 You are bidding on a very special LARGE original Japanese woodblock print "Dancing Bijin" signed by the famous Taisho/Showa artist Otake Goyo. Otake Goyo was very famous in traditional Japanese Bijin woodblock prints, but he only made a few pieces of artwork in his whole lifetime. The size of the woodblock print is 24 x 19 inches, which is much larger than the standard sized woodblock prints. Four borders are intact. The artist's pencil signature and red chop stamp are in the lower right bottom border, and 27/150 written by pencil, which means the 27th print out of 150 prints, is in the lower left bottom border. At the lower left corner of the print, there is an embossed word "KoKey", which I guess is the publisher's seal. The colors, which are vivid and vibrant, are clearly in layers. This woodblock print is not attached to any backing paper or cardboard and slight ink bleeding can be seen through the back of the original thick Japanese Washi paper. Except for some very minor wrinkles in the top right border edge, very minor wrinkles in the bottom right corner edge, and very minor wrinkles in the bottom left corner edge, which do not affect the image at all, this woodblock print is in excellent condition. Please examine the wrinkles on the enlarged pictures.