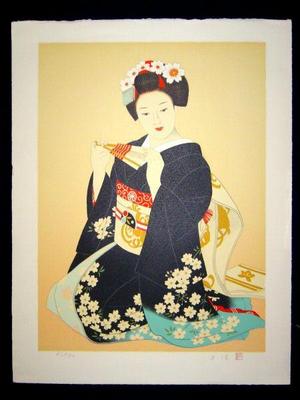 Artist: Goyo Otake
Title: Bijin 2
Date: Not set
Details: More information...
Source: Japanese Art Open Database
Browse all 17,130 prints...
Description:
20/12/2004 You are bidding on an original Japanese woodblock print "Dancing Bijin" signed by the famous Taisho/Showa woodblock print artist Otake Goyo. This woodblock print is a part of a large number of gorgeous, different-styled Japanese woodblock print collections in my family, which we are gradually selling. The size of the woodblock print is 24 1/2 x 18 ? inches. The artist's pencil signature and chop stamp are at the right side of the lower edge, and 61/150 written by pencil, which means the 61st print out of 150 prints, is at the left side. At the lower left corner of the print, there is an embossed word "KOKEN", which I guess is the publisher's seal. The colors, which are vivid and vibrant, are clearly in layers. All four borders are intact.