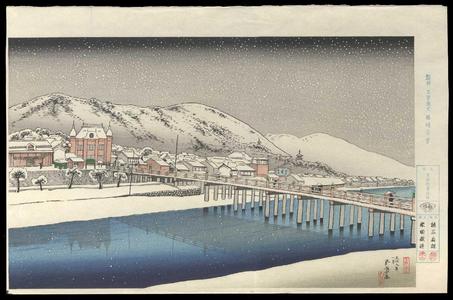 Artist: Hashiguchi Goyo
Title: Snowing at the Sanjo Bridge in Kyoto
Date: 1920
Details: More information...
Source: Japanese Art Open Database
Browse all 17,130 prints...
Description:
Tuesday, 25 January 2005 Snowing at the Sanjo Bridge in Kyoto by Hashiguchi Goyo. Genuine woodblock print dated January Taisho 9 (1920). Later Showa era impression. Fine condition. 12.7 x 19.3 inches. Good ink bleedthrough and texture on fine washi. Goyo characters and red seal, date, and red title in lower right of image. Narazaki supervisor's seal, Uetani carver's and Maeda printer's seal in right margin. Comes with original presentation folder.