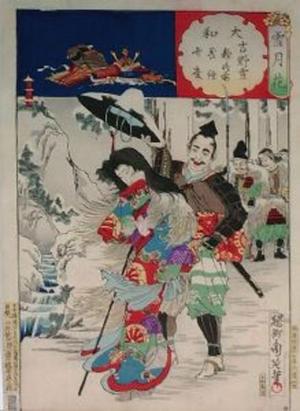 Artist: Toyohara Chikanobu
Title: Yamato Province, The Snow in Yoshino
Date: 1884
Details: More information...
Source: Japanese Art Open Database
Browse all 17,130 prints...
Description:
Artist: Chikanobu Toyohara 1838-1912 Signature: Yoshu Chikanobu hitsu Publisher: Kobayashi Tetsujiro Seal: Toshidama Date: 1884 Size: 24,8 x 36,8 cm Format: oban Title: "Setsu-gekka no uchi" Snow, Moon and Flowers "Yamato. Yoshino (no) yuki. Snow in Yamato Province. Shizuka Gozen, Yoshitsune and Benkei.