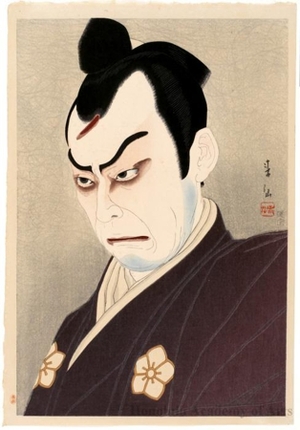 Artist: Natori Shunsen
Title: Nakamura Kichiemon I as Mitsuhide
Date: 1925
Details: More information...
Source: Honolulu Museum of Art
Browse all 5,435 prints...
Description:
Kichiemon, a leading Taishö actor famous for his imperious scowl and proud glare, was well suited to the role of Mitsuhide in the historical play ""The Banner of Rebellion,"" about the tribulations of a royal retainer falsely accussed of treason. By cropping the composition so that Mitsuhide seems ready to explode, Shunsen conveyed the psychic energy of the enraged warrior. Shunsen, using softly modulated colors in the naturalistic manner of the Maruyama-Shijö school of painting, adapted Western methods of life drawing rendered with light-colored lines that expressed the features of an actor's face more naturally.