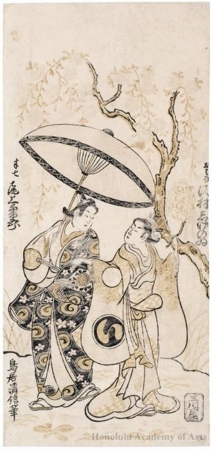 Artist: Torii Kiyonobu II
Title: Onoe Kikugorö I As Hanshichi And Sawamura Shigenoi As Ohana
Date: 1745
Details: More information...
Source: Honolulu Museum of Art
Browse all 5,435 prints...
Description:
"Primitive Ukiyo-e" by Dr. Howard Link: The young swordmaker's apprentice and his lover Ohana are shown standing beneath a flowering tree in a scene from the Ichimura-za production noted in Kiyonobu II, no. 6. This and the following print are printed with pink and a light greenish-brown color which seems to have been used in place of the more common light green for a short period in the mid-1740s. The two prints are similar in style and format and may be been published as pendants.