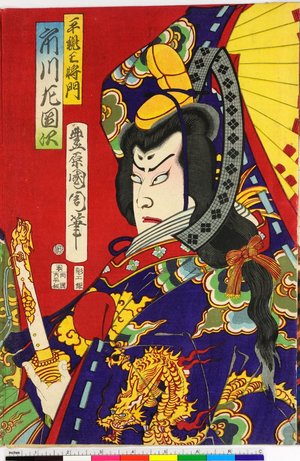 Artist: Toyohara Kunichika
Title: Ichikawa Sadanji as Tairano Masakado shinno; Ichikawa Danjuro as Shokatsu ryo Komei; Iwai Hanshiro as Sishukuka no oiran 市川左団次の平親王将門、市川団十郎の諸葛亮孔明、岩井半四郎の四宿稼の娼妓
Date: 1875
Details: More information...
Source: British Museum
Browse all 9,127 prints...
Description:
Colour woodblock triptych print. From an album of 78 prints. The kabuki actor Ichikawa Sadanji I in the role of Taira no shin'no Masakado, the kabuki actor Ichikawa Danjuro IX in the role of Shokatsuryo Komei, the kabuki actor Iwai Hanshiro VIII in the role of Shishukuka no oiran in the play 'Minori no aki seisho denki (実成秋清正伝記)' performed at the Shintomi theatre, Tokyo, from October 1875 (Meiji 8).