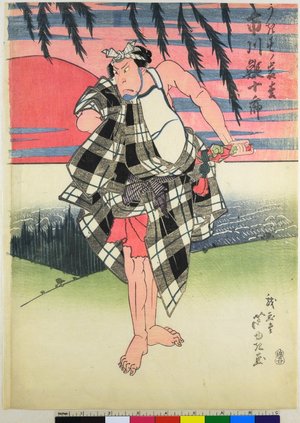 Artist: Gigado Ashiyuki
Title: triptych print
Date: 1827
Details: More information...
Source: British Museum
Browse all 9,127 prints...
Description:
Triptych: woodblock-prints from an album of 104 sheets. The actors Ichikawa Ebijuro I as Ukisu no Iwamatsu (right), Arashi Kitsusaburo II as the farmer Jusaku (centre), Sawamura Kunitaro II as Jusaku's wife Okinu and Arashi Kitsuzo as Jukichi, in the play Keisei kakehashi monogatari, performed at the Naka theatre in the fifth month, 1827. Signed.