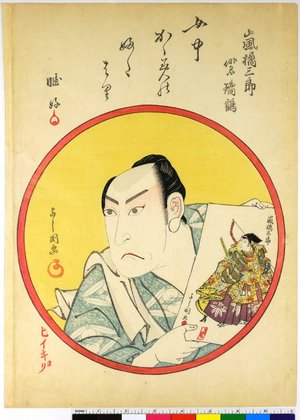 Artist: Toyokawa Yoshikuni
Date: 1822
Details: More information...
Source: British Museum
Browse all 9,127 prints...
Description:
Colour woodblock print from an album of 104 sheets. Bust portrait in a circular frame (mirror ?) of the actor Arashi Kitsusaburo II (Rikan II) holding a woodblock print (signed) of his dead predecessor Arashi Kitsusaburo I (Kichisaburo II/Rikan I). Signed, sealed and inscription.