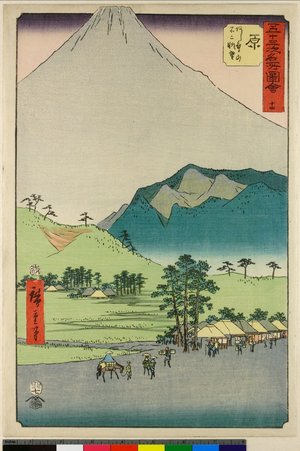 Artist: Utagawa Hiroshige
Title: Hara, Ashitaka-yama Fuji chobo 原あし鷹山不二眺望 (Hara: View of Mt Ashitaka and Fuji) / Gojusan-tsugi meisho zue 五十三次名所圖會 (The Fifty-Three Stations: Illustrations of Famous Places, No. 14)
Date: 1855 (Seventh month)
Details: More information...
Source: British Museum
Browse all 9,127 prints...
Description:
Colour woodblock oban print. Mt Fuji at Hara: Travellers on road and in front of inns in foreground; large view of Mt Fuji in background; peak of mountain jutting up out of top border of design. Inscribed, signed, sealed and marked.