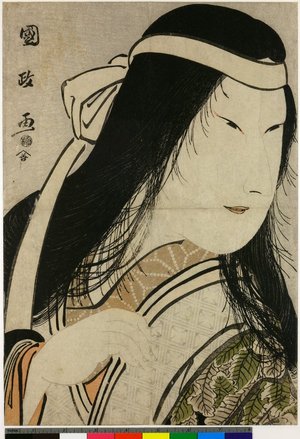 Artist: Utagawa Kunimasa
Date: 1796
Details: More information...
Source: British Museum
Browse all 9,127 prints...
Description:
Colour woodblock print, oban. The kabuki actor Nakamura Noshio II as the mountain crone Yamauba (pronounced 'Yamanba'), in the Tokiwazu dance drama 'Iro sakazuki momiji no kanbase' (lyrics by Masuyama Kinpachi I), part of the play 'Seiwa nidai oyose Genji' by Katsu Hyozo I (Tsuruya Nanboku IV); performed at the Miyako-za in the 11th month of 1796.