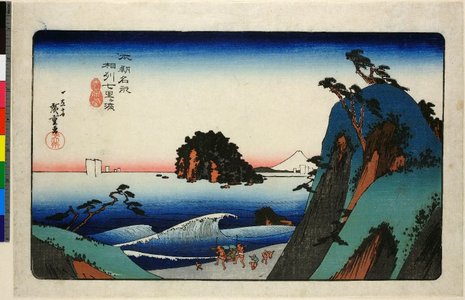 Artist: Utagawa Hiroshige
Title: Soshu Shichiri-ga-hama 相州七里ガ濱 (Shichiri-ga-hama [Beach] in Sagami Province) / Honcho meisho 本朝名所 (Famous Places in Japan)
Date: 1832 (circa)
Details: More information...
Source: British Museum
Browse all 9,127 prints...
Description: Colour woodblock oban print. Long, curving stretch of shore at Shichiri-ga-hama, past side of hill rising up in foreground; children pointing at tourist in palanquin; island of Enoshima separated from shore by high tide; Mt Fuji on far horizon across Sagami Bay. Inscribed, signed and sealed.