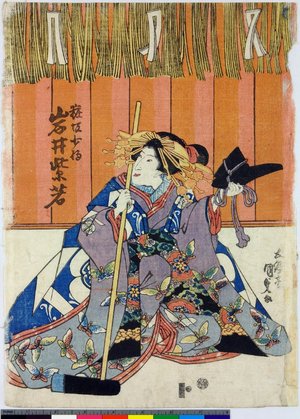 Artist: Utagawa Kunisada
Title: Iwai Shijaku as Kewaizaka Shosho, Nakamura Utaemon as Kudo Suketsune, Bando Shuka as Oiso no Tora 岩井紫若の粧坂少将、中村歌右衛門の工藤祐つね、坂東しゅうかの大磯のとら
Date: 1840
Details: More information...
Source: British Museum
Browse all 9,127 prints...
Description: Colour woodblock print, oban triptych. The kabuki actors (right to left) Iwai Shijaku I as Kewaizaka no Shosho, Nakamura Utaemon IV as Kudo Suketsune and Bando Shuka I as Oiso no Tora, in the play 'Shimekazari otakara Soga' (七五三翫宝曽我), (alternate reading 'Shichigosan kazari Soga') by Sakurada Jisuke III; performed at the Ichimura-za in the 2nd month of 1840 (Tenpo 11).