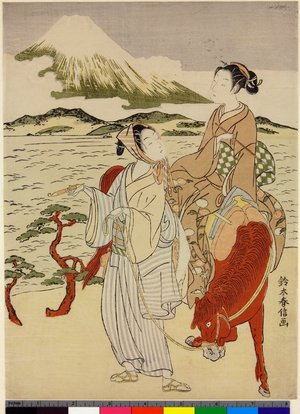 Artist: Suzuki Harunobu
Title: mitate-e / print
Date: 1768-1769
Details: More information...
Source: British Museum
Browse all 9,127 prints...
Description:
Colour woodblock chuban print, mitate-e. Parody of 'Narihira's Journey to the East': young couple pausing on journey to admire Mt Fuji in distance across Suruga Bay; man with hand-coverings and head scarf, and flat travelling hat on his back; one sleeve of his striped outer kimono shrugged off; woman seated sidesaddle on pack-horse, wearing elegant kimono with long, flowing sleeves; both figures holding pipes. Signed.