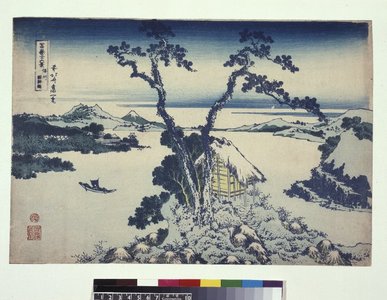 Artist: Katsushika Hokusai
Title: Shinshu Suwa-ko 信州諏訪湖 (Lake Suwa in Shinano Province) / Fugaku sanju-rokkei 冨嶽三十六景 (Thirty-Six Views of Mt Fuji)
Date: 1830-1833
Details: More information...
Source: British Museum
Browse all 9,127 prints...
Description:
Colour woodblock oban print. View from north of Lake Suwa, looking south-east towards distant Mt Fuji: Small shrine building beneath pine trees in foreground; Takashima castle on left shore; single fishing boat crossing lake. 1 of 2 impressions. Inscribed, signed and sealed.