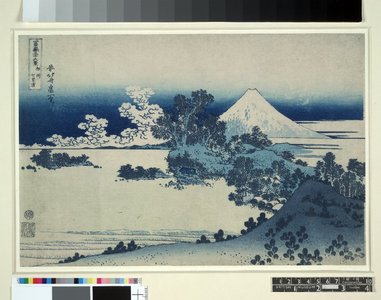 Artist: Katsushika Hokusai
Title: Soshu Shichiri-ga-hama 相州七里濱 (Shichiri-ga-hama [Beach] in Suruga Province) / Fugaku sanju-rokkei 冨嶽三十六景 (Thirty-Six Views of Mt Fuji)
Date: 1830-1833
Details: More information...
Source: British Museum
Browse all 9,127 prints...
Description:
Colour woodblock oban print. One of two views from series, part of first group of five designs printed in Berlin blue. Shichiri-ga-hama in foreground, Enoshima with massive trees and houses in Koshigoe village in middle-ground, Mt Fuji covered by snow in distance; cumulonimbus clouds rise on horizon. Trimmed on all sides except right. Inscribed, signed and sealed.