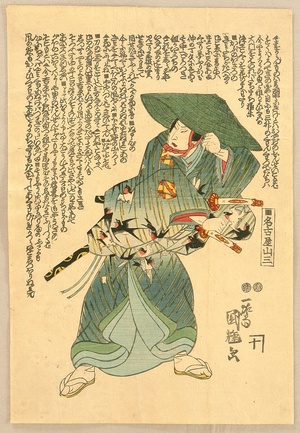 Artist: Utagawa Kuniteru
Title: Encounter - Sanza
Date: 1847 - 50.
Details & Prices: Utagawa Kuniteru: Encounter - Sanza - Artelino
Source: artelino - Japanese Prints
Browse all 24,756 prints...
Description:
Kabuki actor is in the role of Edo dandy Nagoya Sanza. He carries a sword nicknamed, "Amorous Swallows". His kimono has swallows-in-the-rain pattern. He is about to draw the sword to fight against his love rival, Fuwa Banzaemon. The two men bumped each other's long swords unknowingly because they were hiding their faces in the deep amigasa hats. This is the famous "saya-ate" scene in the play, "Sato no Haru Meibutsu Amigasa".