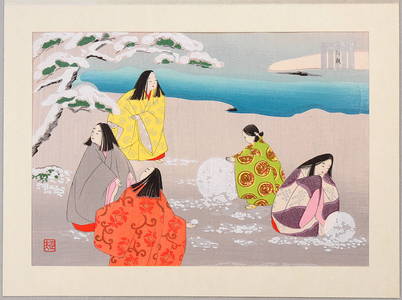 Artist: Maeda Masao
Title: Morning Glory - The Tale of Genji
Date: Ca. 1950s.
Details & Prices: Maeda Masao: Morning Glory - The Tale of Genji - Artelino
Source: artelino - Japanese Prints
Browse all 24,756 prints...
Description:
"Genji Monogatari" (The Tale of Genji) Chapter 20, "Asagao". Playing in the snow covered garden of Nijo-in. "The Tale of Genji" or "Genji Monogatari" in Japanese is one of the earliest novels of mankind and was written in the early 11th century by Murasaki Shikibu, a lady at the Japanese Heinan court. The novel tells the mostly amorous stories of Prince Genji, an aristocratic womanizer.