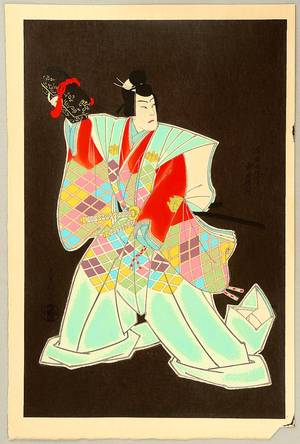 Artist: Hasegawa Sadanobu III
Title: Katsuyori - Kabuki
Date: Ca. 1950's.
Details & Prices: Hasegawa Sadanobu III: Katsuyori - Kabuki - Artelino
Source: artelino - Japanese Prints
Browse all 24,756 prints...
Description:
"Honcho Nijushiko" is a Kabuki play telling the story of the battle between the military commanders Takeda Shingen and Uesugi Kenshin in the Sengoku period (Japanese civil war era). Shingen and Kenshin, who were fighting against each other, have been ordered to search together for the criminal who assassinated Shogun Ashikaga Yoshiteru. So they have arranged for Shingen's son Takeda Katsuyori to become engaged to Kenshin's daughter Yaegakihime, and have maintained their truce for 3 years. In one scene Yaegakihime vows her love to Takeda Katsuyori who has entered Kenshin's palace in disguise. Later the power of a fox's spirit possesses Yaegakihime, who is going to warn Katsuyori about the pursuers sent by Kenshin, and a miracle occurs.