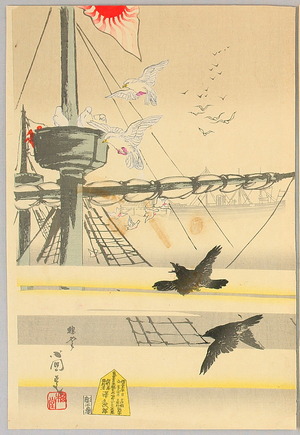 Artist: Utagawa Kokunimasa
Title: Eagle on the Mast - Sino-Japanese War
Date: 1894.
Details & Prices: Utagawa Kokunimasa: Eagle on the Mast - Sino-Japanese War - Artelino
Source: artelino - Japanese Prints
Browse all 24,756 prints...
Description:
"Shinkoku Meiyo Kidan" (Strange Story of Japan). This strikingly composed triptychs illustrated the strange happening on the battle ship, "Takachiho". " Before the battle in the Yellow Sea started, two doves flew over the ship. During and after the battle, a falcon flew in and settled on the Takachiho's mast. The bird was caught and presented to the Emperor Meiji later as the sign of good omen. The flock of the crows in the middle were added perhaps to symbolize the downfall of China. This design is in Basil H. Chamberlain Collection.