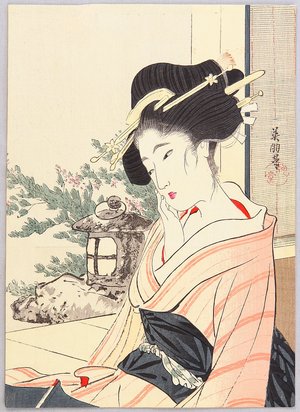 Artist: Hirezaki Eiho
Title: Melancholy
Date: 1913.
Details & Prices: Hirezaki Eiho: Melancholy - Artelino
Source: artelino - Japanese Prints
Browse all 24,756 prints...
Description:
Frontispiece illustration for the novel, "En-bata", published in Bungei Kurabu vol.19, no. 11. A beauty seems to be lost in melancholic thoughts looking at outside garden from the living room. Eiho was a leading kuchi-e illustrator along with Kaburagi Kiyokata in Meiji - Taisho era. His ample talent could express his subject's subtle feelings in the most natural and elegant ways.