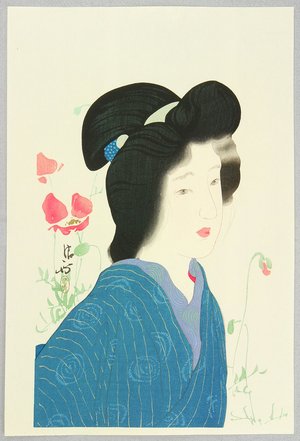 Artist: Kaburagi Kiyokata
Title: Poppy
Date: Original kuchi-e in 1913. This re-carved edition was made in 1975.
Details & Prices: Kaburagi Kiyokata: Poppy - Artelino
Source: artelino - Japanese Prints
Browse all 24,756 prints...
Description:
This attractive image of a delicate beauty was originally made for a kuchi-e for the novel "Uzumaki". It was re-carved and published around 1975 as one of "Meiji no Onna" ("Female Images in Meiji Period") together with Yoshitoshi and Chikanobu's bijin images. For the original kuchi-e book, see artelino archive # 7833.