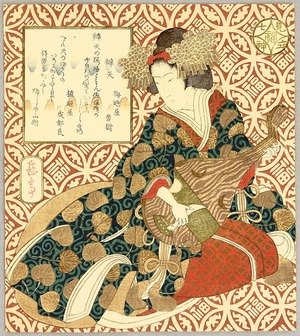 Artist: Yashima Gakutei
Title: Benten - Seven Lucky Gods
Date: Originally in Edo era. This one is a Meiji A-copy published in early 1890s.
Details & Prices: Yashima Gakutei: Benten - Seven Lucky Gods - Artelino
Source: artelino - Japanese Prints
Browse all 24,756 prints...
Description:
From the series "Mitate Shichifukujin" (Allusion to the Seven Lucky Gods) Privately published for the Shippo poetry club. Goddess Benten, the patron of music, is playing "Biwa" (Japanese lute). Meiji A-copy surimono were made mainly for exports. They were elaborately made with metallic pigments and embossing. For many of them, their originals no longer exist.