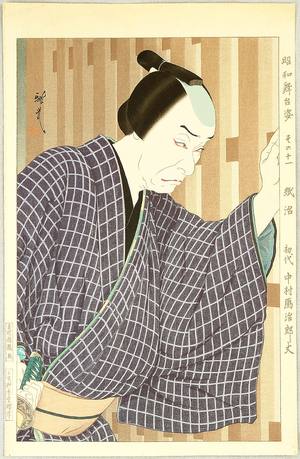 Artist: Ota Masamitsu
Title: Kamiji - Figures of Modern Stage
Date: 1949.
Details & Prices: Ota Masamitsu: Kamiji - Figures of Modern Stage - Artelino
Source: artelino - Japanese Prints
Browse all 24,756 prints...
Description:
From the series, "Showa Butai Sugata" (Figures of the Stage in Showa Era). No. 11. Kabuki actor Nakamura Ganjiro is in the role of Kamiji. Ota's actor portraits are some interesting mixture of the 3-dimensional shadings and the large flat areas of Japanese traditional kabuki prints. The characteristics of individual actors were also presented in the finely detailed depictions of faces and hands.