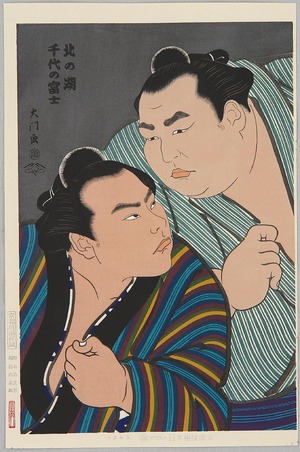 Artist: Kinoshita Daimon
Title: Champion Sumo Wrestlers, Kitanoumi and Chiyonofuji
Date: Late 20th century.
Details & Prices: Kinoshita Daimon: Champion Sumo Wrestlers, Kitanoumi and Chiyonofuji - Artelino
Source: artelino - Japanese Prints
Browse all 24,756 prints...
Description:
Grand champion, "Yokozuna", sumo wrestlers, Kitanoumi (right) and Chiyonofuji. Kitanoumi was said to be, "He was so strong that everybody hated him" during his rein in 1975-85. Actually, he was a quite earnest and honorable guy. So much so that he was chosen to be the president of the Japan Sumo Association, later. Chiyonofuji had his hey-day in 1980s. He did not have any ambition to be a sumo wrestler when he was a teenager. But he entered one of the sumo schools because the scout persuaded him that he could ride on an airplane if he agreed to come to the school.