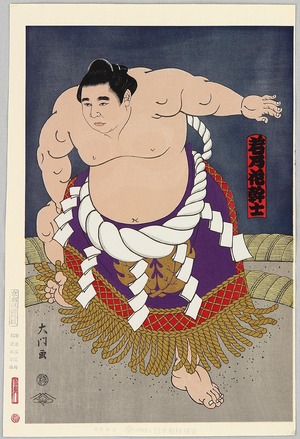 Artist: Kinoshita Daimon
Title: Champion Sumo Wrestler, Wakanohana
Date: Late 20th century.
Details & Prices: Kinoshita Daimon: Champion Sumo Wrestler, Wakanohana - Artelino
Source: artelino - Japanese Prints
Browse all 24,756 prints...
Description:
Champion sumo wrestler, Wakanohana Kanji. He became the 45th "Yokozuna" (Grand Champion) wrestler. His tenacious and ferocious Sumo style earned him the nickname, "The Devil of Dohyo Ring". One of the great Yokozuna in 1950s. He was the uncle of the "Yokozuna Brothers" Wakanohana-Takanohana in 1990s. Later, he became the president of Japan Sumo Association and received prestigious "Shiju-hosho" from Japanese government. This medal of honor is granted to the persons who contributed distinguished services in the fields of art, arts and sciences, sports.