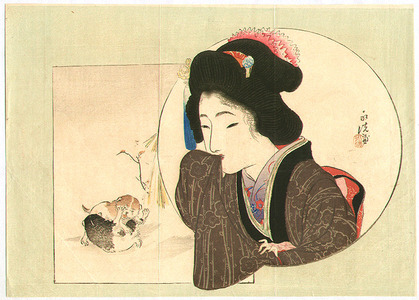 Artist: Tomioka Eisen
Title: Morning after the Snow
Date: 1904.
Details & Prices: Tomioka Eisen: Morning after the Snow - Artelino
Source: artelino - Japanese Prints
Browse all 24,756 prints...
Description:
Kuchi-e illustration for a novel "Yuki no Asa" published on a Bungei-Kurabu, vol.10, no.4, a very popular literary magazine. A morning after a big snow. The girl looking at the puppies is depicted in a circle which signals there is a distance in the two locations. This composition is called, "double contraction" and is often used in ukiyo-e. The picture was listed in an article about kuchi-e published in "Daruma Magazine" issue no. 32.